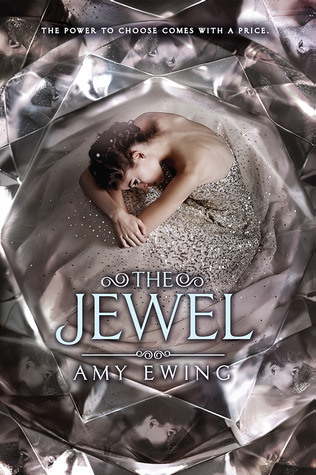 Publisher : Harper Teen
Publish Date : August 2014
ISBN :9780062235794
Format : Paperback
Pages : 384
Personal Rating : 6/10
Summary :
The Jewel means wealth. The Jewel means beauty. The Jewel means royalty. But for girls like Violet, the Jewel means servitude. Not just any kind of servitude. Violet, born and raised in the Marsh, has been trained as a surrogate for the royalty—because in the Jewel the only thing more important than opulence is offspring.
Purchased at the surrogacy auction by the Duchess of the Lake and greeted with a slap to the face, Violet (now known only as #197) quickly learns of the brutal truths that lie beneath the Jewel's glittering facade: the cruelty, backstabbing, and hidden violence that have become the royal way of life.

Violet must accept the ugly realities of her existence... and try to stay alive. But then a forbidden romance erupts between Violet and a handsome gentleman hired as a companion to the Duchess's petulant niece. Though his presence makes life in the Jewel a bit brighter, the consequences of their illicit relationship will cost them both more than they bargained for.
Review :
The Jewels is definitely not something that I usually read. While most of the times I choose to read books with more familiar environment, this book gives me quite a strange world. I mean, yes, there are some divided society like some kinds of dystopians. But how the writer introduce the world is not easy to accept. It's more like we are forced into the world. It's kinda hard for me to relate the world in the book and the world around us.