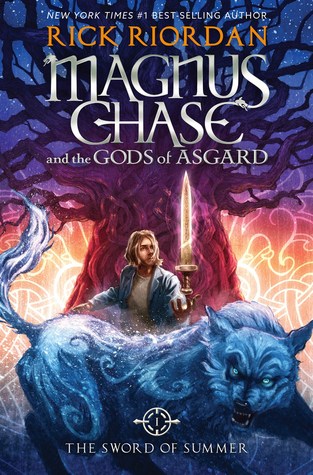 Publisher : Disney Hyperion
Publish Date :October 2015
ISBN : 9781484749715
Media : Hardcopy
Format : Paperback
Edition : First US Edition
Personal Rating : 8.7/10
Sumarry :
Magnus Chase has always been a troubled kid. Since his mother's mysterious death, he's lived alone on the streets of Boston, surviving by his wits, keeping one step ahead of the police and the truant officers.

One day, he's tracked down by a man he's never met—a man his mother claimed was dangerous. The man tells him an impossible secret: Magnus is the son of a Norse god.

The Viking myths are true. The gods of Asgard are preparing for war. Trolls, giants and worse monsters are stirring for doomsday. To prevent Ragnarok, Magnus must search the Nine Worlds for a weapon that has been lost for thousands of years.

When an attack by fire giants forces him to choose between his own safety and the lives of hundreds of innocents, Magnus makes a fatal decision.

Sometimes, the only way to start a new life is to die . . .
OMG! Uncle Rick is back! I know lots of you have read it, but seriously that doesn't stop me from fangirling all over you.
Before we go any further let me tell you a thing or two. This series is set in the same universe as Pecy Jackson Series, but you can read this book before reading PJO or HOO series. There is Annabeth who have some role but doesn't really have much influence in the book. And lastly, I think this book is one of the best Rick Riordan's work for the last decade. I mean , seriously, The Nine Worlds? Yeah, in all Rick's works they set in only one freaking planet. But this one. Dude, the set is not in 9 planet but nine freaking dimension. How cool is that?