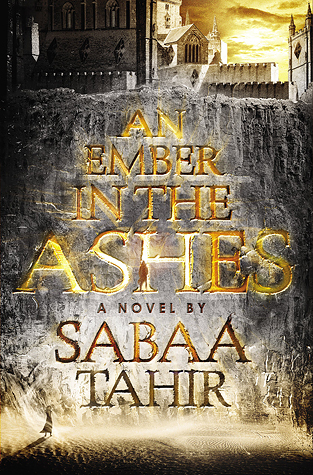 Publisher : Razorbill
Publish date : April 28th 2015
Pages :446
ISBN : 1595148035
Media : Hardcopy
Format : Hardcover
Personal Rating :9,5/10
Summary :
Laia is a slave.

Elias is a soldier.

Neither is free.

Under the Martial Empire, defiance is met with death. Those who do not vow their blood and bodies to the Emperor risk the execution of their loved ones and the destruction of all they hold dear.

It is in this brutal world, inspired by ancient Rome, that Laia lives with her grandparents and older brother. The family ekes out an existence in the Empire's impoverished backstreets. They do not challenge the Empire. They've seen what happens to those who do.

But when Laia's brother is arrested for treason, Laia is forced to make a decision. In exchange for help from rebels who promise to rescue her brother, she will risk her life to spy for them from within the Empire's greatest military academy.

There, Laia meets Elias, the school's finest soldier—and secretly, its most unwilling. Elias wants only to be free of the tyranny he's being trained to enforce. He and Laia will soon realize that their destinies are intertwined—and that their choices will change the fate of the Empire itself.
Review :
Okay, finally got my hand on the keyboard again. My longest hiatus so far. But I get to read few wonderful books to review, including this book!
This Sabaa Tahir's debut book is the definitely a killer start for the series. Amber in the Ashes basically a book inspired by ancient Rome with a touch of magic. It's written in first POV of both our main character, Elias Veturius and Laia whose last I forgot. Anyway, I know this is a last season book but I don't think I'm going to review books anymore if I don't write one about this first so…
The first time I heard about the book, I think about Legend. I mean, a male and a female ,from two very different worlds, somehow got their fate intertwined. And that's the reason why I picked this book. But it exceeds way higher than my expectation
The book starts with a very captivating writing. Honestly, it's hard to find a book this good these days. The best part about Tahir's writing is that she can write both Elias and Laia's narrations beautifully and differently. Without reading their name on the first page of each chapter, I know who is narrating the story. And I know well that not many authors able to do that. Both Elias and Laia narration represent their own character. That's how good her writing is. And don't start talking about the pace. I read it in one or two days. Her writing is perfect, no arguments.
The ideas and the plot are unique and solid. Sometimes it's hard to see who is the good guy, especially while reading Laia's POV.
I think her POV strengthens the plots while Elias beautifies them.
Move on to the character. Laia's character is definitely developed well in this book. She starts off as a regular girl who gets scared at some point , confuses about what to do, and doubts what should be next. But she grows into a strong and caring girl in her very own way.
Next up, is Elias Veturius. Oh my, he is definitely going as my book boyfriend. I love his appearance and characters. His bravery and intelligence are
admireable. He is strong and gentle at the very same time. He is a prince who doesn't want the throne. He seeks freedom and justice instead. Seriously, I can't say anything but wonderful to describe him.
There is also someone who caught my attention. She is Elias's childhood friend and his crush I suppose. Her name is Helene. I think she is that kick ass girl that everybody is going to love. Although her beliefs are kinda twisted at some point, I gotta admit, it's hard to hate her.
I don't think there aren't much romance between both of our main leads, their interaction start in the middle of the book. But that doesn't bother me. If you are a romance reader, I think this book is still recommended for you. Because seriously, you don't want to miss this in your lifetime.
"If you or I had been born to different parents we might be in her shoes instead of our own "- Elias Veturius
"Nan always said that as long as there is life, there is hope,"- Laia