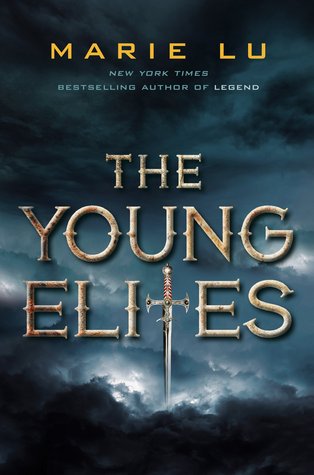 Publisher : Penguin
Publish date : October 2014
Format : Paperback
Pages : 355
Personal rating : 9/10
Summary :
Adelina Amouteru is a survivor of the blood fever.
A decade ago, the deadly illness swept through her nation. Most of the infected perished, while many of the children who survived were left with strange markings. Adelina's black hair turned silver, her lashes went pale, and now she has only a jagged scar where her left eye once was. Her cruel father believes she is a malfetto, an abomination, ruining their family's good name and standing in the way of their fortune. But some of the fever's survivors are rumored to possess more than just scars—they are believed to have mysterious and powerful gifts, and though their identities remain secret, they have come to be called the Young Elites.
Teren Santoro works for the king.
As Leader of the Inquisition Axis, it is his job to seek out the Young Elites, to destroy them before they destroy the nation. He believes the Young Elites to be dangerous and vengeful, but it's Teren who may possess the darkest secret of all.
Enzo Valenciano is a member of the Dagger Society.
This secret sect of Young Elites seeks out others like them before the Inquisition Axis can. But when the Daggers find Adelina, they discover someone with powers like they've never seen.
Adelina wants to believe Enzo is on her side, and that Teren is the true enemy. But the lives of these three will collide in unexpected ways, as each fights a very different and personal battle. But of one thing they are all certain: Adelina has abilities that shouldn't belong in this world. A vengeful blackness in her heart. And a desire to destroy all who dare to cross her.
It is my turn to use. My turn to hurt
Well, Young Elites is definitely a must read. This is my second series written by Marie Lu and I LOVE her writing so much. It's definitely different than Legend Series, but still as gripping as Legend. Compared to Legend, the book has darker atmosphere, which maybe more fit with my current taste. But the idea is still as unique and fresh as Legend, which is my favorite Marie Lu's traits
Okay, now let's stop with the comparing and start to see the book as it is.
While reading the book, I kinda felt similiar feeling that I used to feel in my manga years. I mean reading Young Elites is like reading manga in a form of novel. The characters, plotlines, the world buildings , everything reminded me of some manga that I used to read, like Fairy Tail? Of course the idea is different. Young Elites is darker in some way. But the feeling that you get is still the same.
Oh forgot to say, at the beginning of the book, I had a little trouble connecting with the story. I don't know if it's just me or maybe because of the very new,strange, and unfamilliar world building, but if you are reading the book and suffer the same thing, don't stop. Because once you get a grip on it, it will turned out to be fantastic.
Now I'm moving on to the characters, and I have to apologize because I'm going to compare some of them with Legend's.
The main character, Adelina, is definitely not the good-most loved-country's prodigy like June Iparis. In fact she is the total opposite of June Iparis. But I think that's what makes this book interesting. The main character may not be as lovable as June but she is definitely more relatable. I mean she isn't perfect. She has darkness,anger,hatred and insecurites inside herself. She is flawed. But isn't that human? Besides, she is different than any girl . She kills. She has the kick. She has different way to be loved by the readers. I mean, have you ever suffered anti-hero syndrome???
Next character, Enzo. At first I didn't really like him. I truly felt that he didn't have the book boyfriend qualities. But the more I read the book, the more I could relate to him and fell in love with his charm. Besides Enzo, there is this one guy,Raffael. And I'm in love with him. He is my favorite character in this book. If the book is turned into a movie, I definitely looking forward to see who plays his character. Because , man, he is a lovable side character.
Never ever forget to mention the villain of the book. He is definitely the villain that you'll love. He has complex personality. And , have you ever felt that you should hate one guy, but you have sympathy towards him instead? Well, that's how I feel toward him.
The romance, well the book can be as good as it is without any romance. Like Enzo, at first I didn't want any romance. But once it sparked, it is sexy!
Anyway that's my review. And man, when was the last time I read a book this good?
"No one wants you to be yourself. They want you to be the version of yourself that they like"- Adelima Amouteru